In my opinion (and I followed the election fairly intensely on the internet and the T.V) propaganda and fear was a large part of the reason Labour lost, but Ed Miliband made huge mistakes. Ed Miliband is now spoken about like he was some left wing, weak leader despite the fact that at the start of the campaign he was not much more to the left than the Conservatives. As the campaign went on he started to move to the left probably in order to win votes with the anti Tory majority, but the anti Tory majority still remember Tony Blair and his oil wars, they do not look at Labour as the left wing saviors of the people instead they look at Labour as the Red Tories. "You can not win when you are as left wing as Miliband" so called political experts are claiming, they are wrong and in a way this election has proved them wrong, how?
The Scottish National Party taken nearly every seat in Scotland and they were at least at the start of the campaign much more to the left than Labour, but the Scottish National Party have an advantage, people in Scotland trust them and obviously feel represented by them. After the war in Iraq, the bank bail out and the Labour parties failure to represent "the left wing or the poor" in the past, the masses in England still feel that Labour are not a real alternative to the Conservatives. I am not saying they are exactly the same but when in power Labour were not that different. Labour also turned a blind eye to corporate tax evasion and made deals with news corporation. Having said that I still cannot believe the Tories won, which got me reading and it turns out that 1992 election was very similar, a "late surge of Tory support undetected by the polls" led to a Conservative majority as Wikipedia describes;
Polling
Almost every poll leading up to polling day predicted either a hung parliament, with Labour the largest party or a small Labour majority of around 19 to 23. Polls on the last few days before the country voted predicted a very slim Labour majority.
With opinion polls at the end of the campaign showing Labour and the Conservatives neck and neck, the actual election result was a surprise to many in the media and in polling organisations. The apparent failure of the opinion polls to come close to predicting the actual result led to an inquiry by the Market Research Society. Following the election, most opinion polling companies changed their methodology in the belief that a 'Shy Tory Factor' affected the polling.
THE 2015 ISRAELI ELECTION also saw right winged Likud party win after a "late surge in support"
Opposition leader Isaac Herzog concedes election after prime minister recovers from low poll numbers in runup to vote to lead his Likud party to 30 seats in Knesset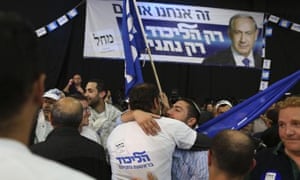 Israeli prime minister Binyamin Netanyahu's rightwing Likud party has scored a dramatic election victory, surging past its main rival – the centre-left Zionist Union – to win the most seats in the Knesset.
A series of exit polls released at the close of voting on Tuesday night had suggested the Zionist Union and its leader, Isaac Herzog, were neck and neck with Netanyahu.
But by Wednesday morning official results had stretched to a decisive five-seat lead for Likud, making it almost certain that Netanyahu would serve a third consecutive term as prime minister.
Herzog said he had spoken with Netanyahu to congratulate him on his election victory. "A few minutes ago I spoke with Prime Minister Benjamin Netanyahu and congratulated him on his achievement and wished him luck," Herzog told reporters.
He said his leftist Zionist Union party would continue to be an alternative to Netanyahu's rightwing Likud.
Netanyahu will still have to assemble a coalition government but his seat count means he will be in a far more commanding position as he seeks partners.
A van containing more than 200,000 ballot papers destined for polls in East Sussex has been stolen. The papers had been printed in London and were being taken to two constituencies – Hastings and Rye and Eastbourne – ahead of voting in the general election on 7 May. Metropolitan Police officers alerted both Hastings and Eastbourne councils about the theft in London overnight. Officers found nothing to suggest the van was targeted for its contents. Police told the local authorities they believed it was a coincidence the stolen van contained ballot papers. The theft is still being investigated.
The ballot papers had been printed in London and were heading for Hastings and Rye and Eastbourne – ahead of voting in the general election on 7 May. Police said it was believed the van was parked in Longbridge Road, Dagenham, at about 19:30. The theft was discovered at about 06:25.
Labour had been expected to win in 
Hastings and Rye
. 
Hastings & Rye – Lord Ashcroft Polls
. In Hastings and Rye, the Conservative candidate Amber Rudd surprisingly won with 22,686 votes with Sarah Owen, Labour's candidate, receiving 17,890 votes.
Sounds dodgy.
The Independent reporting the news with no bias whatsoever!
READ MORE.
A last-minute deluge of postal votes allegedly sparked concerns about ballot rigging at Milton Keynes Council.
Instead of the anticipated four or five ballot boxes, 18 brimming boxes containing more than 4,600 votes turned up at the council offices yesterday.
Today election organisers insisted nothing seemed amiss – and blamed postal delays caused by the bank holiday.
 They are, however, awaiting with interest to see how many more posted votes arrive before the 10pm deadline today, say sources.
The Wednesday deluge was so unexpected that an email was sent to council staff asking for help in counting the votes. Many volunteers worked well into the night.
A source said: "There was certainly concern and suspicion at one stage. This was more than four times the expected number of papers arriving in one day, and it did not fit in with previous trends."
Other sources claim helpers were told to check all papers meticulously by hand to check they were genuine.
Other signs of postal vote fraud could include larger than expected numbers of papers returned from one ward or constituency.
Judge Richard Marvey, who presides over electoral fraud, made warning
He said introducing 'on demand' postal voting did not boost turnout
But it has opened the electoral system to fraud on 'an industrial scale'

Postal ballot papers for Thursday's general election have been sent out to a block of flats in Tower Hamlets which has been a building site for months
A new outbreak of voting fraud is underway this week in the London borough whose elected mayor was dismissed by a High Court judge for corruption and vote-rigging.
Postal ballot papers for Thursday's general election have been sent out to a block of flats in Tower Hamlets which has been a building site for months, council records seen by the Telegraph confirm.
The property – owned by Tower Hamlets council – is completely boarded up, surrounded by hoardings and without any sign of habitation.However, letters can still be delivered there. None of the people who supposedly applied for the votes lives at the property and at least one is dead.